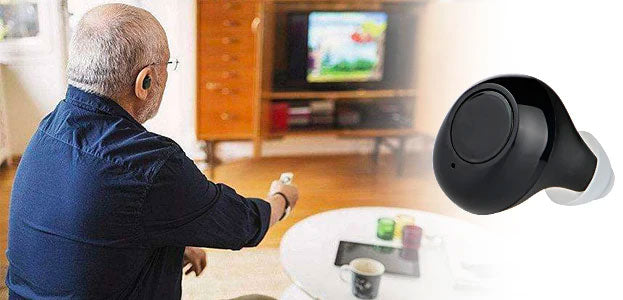 Share Your "Sound"

Watch TV, listen to radio or music with your family and friends, without any "TOO LOUD".
How to operate?
Press up to 3s to turn on when you hear "beep"
Short press the button to adjust the volume.
There are 6 sound levels of volume for different occasion, and you will hear a "beep" sound each time a level goes up. You will hear three times "beep" at the max volume.
If you press again, it goes back to the lowest level.
Press up to 3s to turn off when you hear "beep beep"
Specification
Equivalent input noise level: ≤ 35dB

Maximun OSPL90: ≤120±3dB

Total Harmonic Wave Distortion: ≤10%

Hearing aid charging voltage: 4.2V

Charging case working voltage: 3.7V
Features
Big button, easy to operate

Lightweight, only 0.13ounce per headset

Fashion outlook

Noise reduction feature

Rechargeable

3 size eardome
Note:
Please make sure the aid is fully charged before use.
During charge the indication light will show blue.The indication light turn white full charge.
Charging time:90 min
Hearing aid working time:12h